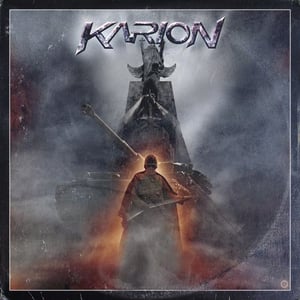 $

10.99
Texas metal outfit "Karion" release archived 1984 demo recording, and live 1986 performance video recorded at their final performance in San Antonio. Tx. during the peak of the legendary Texas metal era of the 1980's. The CD/DVD set includes an eight page folder with liner notes and pics.
Karion band members included former "S.A. Slayer" guitarist Art Villarreal, and former "Riot" bassist Pete Perez. Vocalist Chris Cronk also formerly of "S.A. Slayer", and ex "Helstar" drummer Frank Ferreira rounded out the line up.
Fans of the NWOBHM (New Wave of British Heavy Metal), and Power Metal of the 80's should enjoy this six track EP. Karion's style was reminiscent of their influences, and although not exactly "Prog Metal" they did display a mastery of their instruments while focusing equal attention to their intense, catchy, yet instrumentally driven compositions.
Vocalist Chris Cronk, set himself apart from other singers of the genre with his mid range register, and thought provoking lyrics. The instrumental sections of these songs demonstrate a band that was capable of full on show casing, yet adhered to their main strength; song writing and arrangement.